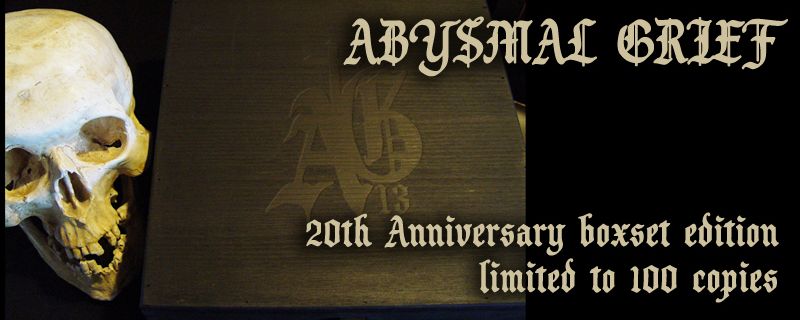 "This is where the living make a religion of respecting the dead. This is where the dead make a religion of preserving their lives."
Purveyors of some of the finest and most cursed Doom Metal, Italy's own Abysmal Grief returns from the shady graveyard to celebrate their 20 years. TERROR FROM HELL is proud to release this luxurious relic containing: "Reveal Nothing…" CD with all the songs from their singles, splits and 7" , including one bonus track ("Cursed Be The Rite"), the "Mors Te Audit" tape (the infamous second demotape, originally released on a limited edition of 13 pieces, presented with the same cover and lay out), metal badge pin with symbol, poster, t-shirt exclusively designed for this release … and cemetery soil. All these doomed hymns and devotional items are housed in a wooden box strictly limited to 100 pieces. A lugubrious journey from the band's earlier steps into the misty sepulchre in late 90s until 2012. Those who already owns the original items released back then and those who doesn't will be both pleased with such release, which celebrate twenty years of Occult Italian Sound.
Join the ride, the hearse to Borgo Pass begins its dreadful journey at the stroke of midnight.
RELEASE DATE: 2nd NOVEMBER 2016
PRE ORDERS AVAILABLE HERE