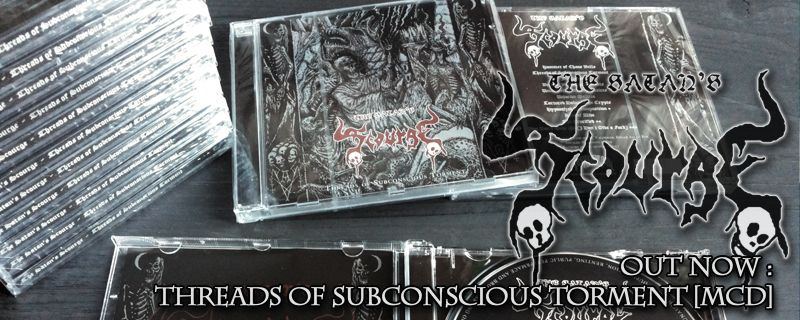 Ready to ship THE SATAN'S SCOURGE "Threads Of Subconscious Torment" MCD. 20-minutes ode to evil comprise 10 tracks, included an Impaled Nazarene cover and a Bathory cover (exclusive for the European edition). Uncompromising and unmerciful Death/Black Metal in the best South American tradition (Colombia). Manic thrashing riffs, detonating drum and hateful vocals drives the listener in the urge to start a brawl. Short and straight-to-the-point "Threads Of Subconscious Torment" is a malicious statement to those who forgot how Black and Death Metal must sound like: dangerous.
For fans of Order From Chaos, Mortem, Sarcofago, Blasfemia and Possessed.
Order your copy here.
<iframe width="100%" height="300″ scrolling="no" frameborder="no" src="https://w.soundcloud.com/player/?url=https%3A//api.soundcloud.com/tracks/298060288&amp;color=%23ff5500&amp;auto_play=false&amp;hide_related=false&amp;show_comments=true&amp;show_user=true&amp;show_reposts=false&amp;show_teaser=true&amp;visual=true"></iframe>